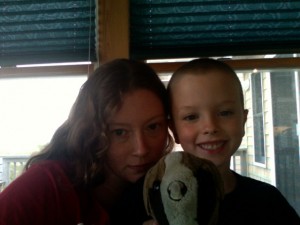 Well, I think I can officially say that I am homesick. I mean, I really like it here. We get to sleep in a king-sized bed and I know that the wheels are now turning in my head to try to figure out to make that a reality in our daily life even though those suckers are expensive. Then, of course, there is the beach and all its glory. We've had near perfect weather everyday. The sand is incredibly soft (but HOT in the middle of the day), the water is nearly clear and the waves aren't harsh at all.
But I miss relaxing on our ugly couch at the end of the day. I miss our cat. But I know that I need to shake this off since before we know it, we'll be home. And really un-fun things like school and work will start bearing down on us.
I'm sure part of it is the aforementioned snarky menses. But I think there's something else eating at me. Our last few summer vacations have been spent with Tracey and her family. They were supposed to come with us on this trip, too, but couldn't. I think they're definitely my "beach buddies" and I'm really noticing their absence. Perhaps I'm "homesick" for the long tequila-and-Fresca-fueled chats that Tracey and I have and the companionship between M and the baby that prevents both of them from getting beach dementia.
For instance, I don't think the baby would have tried to pick up that gigantic table lamp just now if M were here. Ahem.