Today is supposedly the most depressing day of the year, but I have to say…I'm not feeling it.
I worked and had class today, so it was easy to momentarily forget about all that was going on. Today is, of course, Martin Luther King Jr. Day. The baby asked us the other day if we celebrate MLK and it took me a minute to know how to respond. I mean, we don't celebrate it like we do other holidays. There isn't a feast or decorations associated with it, but it is one of those days that we pause to acknowledge that there isn't just one day for compassion and understanding and battling ignorance, but that we must continue to do so every moment. The husband and I explained this to the baby and told him about other people who have spoken out in the face of injustice, whose words and actions, even their most controversial, we must continue to wear as armor in the war against hate and oppression…Malcolm X, Angela Davis, Nat Turner, Harriet Tubman, Frederick Douglass.
Tomorrow, of course, we inaugurate Barack Obama. As the hours of George W. Bush's presidency tick toward their last, I find myself reflecting a lot on how I feel about him as a person. Many times during the last eight years, I said that I hated him, that he made me furious, that he was evil. But I watched video of him the other day in which he answered questions about his presidency and how he felt about it now that it was coming to an end. I realized that I didn't hate him. I listened to the way he listed the things he regards as "disappointments:" the lack of weapons of mass destruction, never capturing Bin Laden, plastering up that "Mission Accomplished" sign, the extent of the devastation of Katrina, his "inheritance" of an economy in recession. It occurred to me that he doesn't understand what happened. Thousands and thousands of people died. Whole families were destroyed. These are not disappointments. These are catastrophes that would haunt most people until the end of time. But W., I think, is simply unaware of the reality that we live in under him. He is an unwitting tool of some project steeped in privilege and entitlement, a project that is hopefully gasping its last breaths.
Ultimately, W. is responsible for his actions as president, but the blame (and my rage) can not rest solely on his shoulders. I hope that it will be the legacy of a way of thinking and behaving, that there are people who simply don't matter, that will die as the books close on W.'s term.
Hope.
It's such a strange thing, isn't it? It's so thrilling but carries with it such an uneasy feeling. Obama doesn't owe anyone anything and the task of making things right at this time is a job surely far too immense for a couple of measly presidential terms. Honestly, he's proving a bit too centrist for me and some of his cabinet appointments make me very uncomfortable. But I can wait and see.
That's my son, right after I let him push the button that cast our vote for Obama and the whole world might as well reside in that blue iris, the same way the President-elect can see the universe in the eyes of his daughters. We have your back, Barack. Show us what you we can do.
With such heavy things pressing on our minds, it's wonderful to turn to something where the stakes are considerably lower.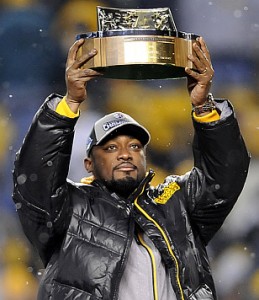 Indeed, the Pittsburgh Steelers are going to the Super Bowl. Plenty has been written about how football fans, particularly Steelers fans, are an inexplicably rabid bunch. But I would argue that the anti-football folks are far more rabid. Several seemingly innocent interactions online yesterday quickly turned ugly when folks felt the need to inform me that I am stupid and/or insane for liking football.
I can understand the kneejerk defensiveness. Football is mainstream and we all know how Americans tend to react to behavior that is outside the mainstream. But oddly enough growing up and living in artistic and intellectual circles, my devotion to the Steelers was seen as, at best, a quaint remnant of my blue-collar roots or, at worst, a hint toward my true nature of hideous yinzer Morlock, something to be shed along with my grating and offensive accent and my scandalous desire to simply have fun rather than devoting every waking moment to the elusive goal of enlightenment. This belief that artistic or academic interests are mutually exclusive to football fanaticism is just…stupid.
And besides, I can wax the hell out of some eloquence when it comes to the Steelers and what they mean to Pittsburghers like me. I just know that opening the door last night and hearing the cheers of unbridled joy of people who aren't even in the game is an amazing experience. And I know that celebrating their Super Bowl XL win on my normally silent main street is something that will flash in my mind right before I die. It's not really The Win, you see. It's getting the chance to see people who you normally pass on the street and maybe grunt at just…happy.