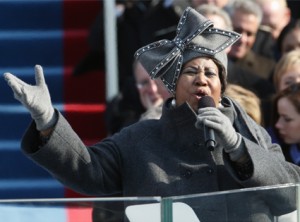 This is a picture of Aretha Franklin singing at yesterday's inauguration. And that is her hat. And I am here to tell you both the simple and complex reasons why that hat is awesome.
1) It's grey, which is perfect for a cold, January day.
2) When she was walking to the podium, I wasn't sure if the hat was decorated with a sculpture of a bird or a bow. Any time I have to struggle with that distinction, that is a fashion win in my book.
3) It has Swarovski crystals on the bow. Nice.
4) It's on Aretha Motherfuckin Franklin's head.
5) It was made by milliner Jason Song of Mr. Song Millinery of Detroit, Michigan.
Whether or not Aretha is aware of how symbolic this suddenly makes her hat for me doesn't really matter.
As I've no doubt mentioned here before, I love Detroit. I go there once a year in May for the electronic music festival. Granted, that weekend is tourist-heavy and I'm sure things are different the other 51 weekends of the year. But it's truly a great city.
Telling people that I like Detroit and that I vacation there (teehee), always elicits bewildered responses. "Detroit??!?! Like, Detroit, Michigan? That Detroit?" Yes, that Detroit. True, Detroit has had it rough for years. And there's plenty to be depressed about when you look around the city. Factories are abandoned, whole neighborhoods give off a post-apocalyptic vibe, hotels are bombed out shells of their former grandeur. But the city is very much alive.
There's a palpable sense that Detroit will never die, even if every drop of industry disappears from the 313, even with the already wheezing automakers begging for a bailout. Detroit has music and where there is music, there is life. There is hope. There is a reason to stick your chest out and declare, "This my music, this is my city, this is my country, goddammit. I made it, I breathe it, I sing it and you can never take it from me."
Driving along Detroit's long and flat streets you will see plenty of boarded up buildings, but you will also see countless small businesses, including milliners like Mr. Song's. These businesses make hats for ladies and gentlemen who wear them to parties and events and church. Pass by a church in Detroit on Sunday and you will see a dazzling array of hats on the heads of ladies. The hats make fitting crowns for these ladies who, despite seeing the heart of economic collapse around them, sing in praise of their faith in a higher being and, more importantly, their faith in themselves and their survival, even as the rest of the world turns their back to focus on carving Detroit's epitaph.
Aretha Franklin moved to Detroit as a child and was/is, of course, one of the brightest stars to come out of Motown. She's a legend. The only reason that she is The Aretha Franklin is because of her life experiences, which includes growing up in Detroit.
A lot of people have poked fun at her hat, at how over-the-top it was. But I think it's extremely fitting that a hat from Detroit went to the inauguration and crowned Aretha's performance. In a way, it's a symbol of the struggles and perseverance of people in places like The Rust Belt, a reminder that we're still here, no matter who is in the White House, no matter what corrupt businesspeople do. We're still here, and we look damn fine in our hats, thank you very much.