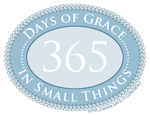 Schmutzie invited me to participate in Grace in Small Things. It's taken me a few days to get started, but I was just reminded what today is, so it seems like a fitting way to begin such a project. And we're supposed to do five things but I think today I'll just do this one, since it's a biggie.
Today is Blog for Choice day, which honors the anniversary of the Roe v. Wade ruling. So my first positive thing for Grace in Small Things is my reproductive freedom.
I was not always pro-choice. From the time that I was old enough to know what abortion was, I was staunchly pro-life. My very Catholic schools made a point of telling us, especially the girls, how wrong it was. This stayed with me until my teen years when I started rethinking a lot of things, as teenagers tend to do, including my feelings on women being able to decide when they have children, even if that decision includes terminating a pregnancy. I timidly changed my position to pro-choice but not pro-abortion.
A few more years of maturity and realizing that I don't like people to insert themselves into my personal struggles and maybe I felt the same way toward others put me into pro-choice but kind of ambivalent about the whole thing territory.
Until I got pregnant.
To be fair, I had a lot of supportive people around me and they were all people that I sought comfort and advice from. But there was still a decent dose of pressure. Being as far up shit creek as I was, I didn't know what exactly to do about my pregnancy, but I knew for sure that I was the one who was going to live with whatever I decided.
I got as far as the doctor's office and making my appointment and arranging everything when it finally became clear to me that having an abortion was not what I wanted to do.
Ultimately, I obviously decided to continue with the pregnancy, but the experience solidified me as a pro-choice person. I wanted to have my baby, but I could definitely understand not wanting to continue a pregnancy. And I couldn't imagine being forced in either direction. It's a hard thing to try to explain to someone who hasn't been through that situation. But having my rights over my own body and my own life transformed me profoundly.
If you don't feel the same way that I do, I do not say these things to offend you or to be combative. I only hope to give a little insight in my weird little life and maybe gain some understanding along the way.
Also: good start, dude.