Dudes! Double-yoo-tee-eff is up with still not being able to write here on the regular?
Spring semester is officially over and I'm happy to report that I did very well, grades-wise. However, I'm taking a summer class and that started Monday. It's only six weeks long and it's the last required course that I have for my MA (just one more elective in the fall!).
The class itself is fine. It's an organizational behavior course through the business school that is mostly made up of undergrads. I am the sole humanities dork. The rest of those guys are in engineering and chemistry and computer science and iwillmakemoremoneythanyouism.
There are many hilarious bits in this whole thing. Like how someone actually snickered when I stated that I was a professional writing person. And today when we were talking about these principles of human resource management that touted such crazy notions as paying good wages, not treating them like shit, etc. The instructor asked what the overarching philosophy was of the principles and the undergrads were pulling out big words like…uh…"derivative" or something. And I raised my hand and said, "Uh, that employees are people and not batteries?" My classmates got that look of faint recognition on their faces. I hope I didn't blow their minds too much.
There's also a vague (so far) anti-union feel to the readings, which isn't at all surprising. I'm just mostly amused by the language used. Like, "Such-and-such manager was successful because he was able to communicate with the labor people." I get the impression that these young business students are, perhaps indirectly, taught that people in unions are all barbaric assholes who want nothing more than to harsh your capitalist mellow.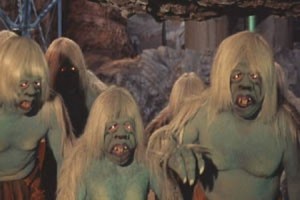 Me, my mom, and my dad, circa 1992
I am not union and, because of my line of work, probably never will be. But many of my family members and friends are and it's a little troubling to think that their future managers are being brought up with this attitude. I'm not saying that all unions are perfect and I'm not saying that there aren't plenty of assholes in unions. Just…you know…remember that these are PEOPLE (there's that word again) that we're talking about.
ANYWAY, I was going to tell you all about this little confrontation that I had with the manager of this bar that the husband was playing records at on Saturday, but I'm almost over it. And, yes, I wrote angry and vulgar couplets about him and his mother and it made me feel better.
We're going to Detroit this weekend for the music festival and I kind of agreed to take one of the quizzes online at 10:30 on Friday morning, when I will most likely be hungover from our first night in Detroit and post-Penguins festivities, so that should be cute.