Things in my house that are dirty:
– everything
– me
Things in my house that are probably housing dangerous molds and spores and stuff:
– the fridge
– the toilets
– me
I really, really need to do some stuff here today but the past week and a half just caught up with me and now I can't really imagine doing anything but watching old episodes of Mad Men.
Speaking of, and in honor of today's uselessness, I give you kdiddy a la Mad Men: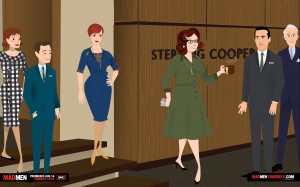 The baby had his first soccer practice today. The coach freaked me out by openly talking shit on the parents of two kids who couldn't be at today's practice. Not cool. I had to spend the practice attempting to find a dry patch of ground that was in shade so that I wouldn't combust, which means that I need to go whole hog on this soccer mom thing and buy a folding chair with an umbrella. I need something that will protect my pallor while I hand out Sunny D and say stuff like, "Gosh!" and "Golly!" and "Kick the shit out of it, kid!"
Maybe not that last one. I'm still learning.