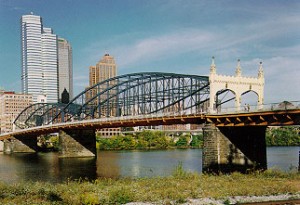 I've been taking the bus to and from work. The driver that I've had in the morning likes to get on the PA as we cross the Smithfield Street Bridge into town and say, "Good mornin' ladies and gentlemen. We're abaht ta enter bee-YOO-tee-full dahntahn Pittsburgh."
It never fails to make me smile.
I am super busy this week at work and my class (last one EVER!) starts today. However, I've recruited a few fabulous people to provide some content. Look for that over the next few days.
Love yinz. And have a bee-YOO-tee-full day.