Why, yes, I did just quote "Karma Chameleon." What of it?
I am cranky today. I'm having a lot of trouble getting work for various jobs (9 to 5, internship, freelance gigs) done and it's making me alternate between anxious and furious.
So, to cheer me up, I'm going to share some pretty pictures with you.
Do you recall a year or two ago when color photographs from the 1930s and 1940s were making the rounds on the internet?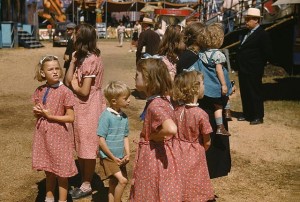 Photographers from the Farm Security Administration and the Office of War Information took these pictures around the time when the Great Depression was winding down and when World War II was gaining momentum. The photographers aimed to document the hardships of Americans during that time and to spur government aid.
A few years ago, the Library of Congress put the exhibition of these photos online.
To me and to many others, the pictures were so stunning because they suddenly brought the very recent past to the present. I think if you grow up with color photographs being a given, like I did, you draw an imaginary line in your cultural consciousness. On this side is color and that which I can relate to. On the other side is black-and-white, long ago and far away, and intangible hardships that I could never possibly grasp.
Suddenly, with just a glance at a picture like the one above and those raspberry dresses, it all seems real. You can smell the dirt and feel the heat of the day and hear the sounds of the carnival that might have been a huge treat for the whole family. The kids are most likely well into their 70s now and somehow getting to see them this way makes their experiences that much more understandable.
Now, if those weren't cool enough, the LOC also has a gallery of pictures taken by Sergei Mikhailovich Prokudin-Gorskii. They are also color photographs but they are from 100 years ago.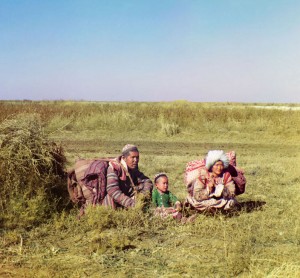 Yes, really. Go check them out and be sure to read about the colorizing process. I'm going to go try and be less bitchy.