This morning, I admitted something to myself: I'm neurotic about lunch.
And, like any good mother, I blame my son for this.
He's a picky eater, though much MUCH better than he used to be. But at any given time, the list of things that he will eat for lunch is pretty short. So, I'm always trying to find some balance of actual calorie input and health for him. Currently, he will eat half of a sandwich, consisting of bread (wheat or rye) and lunch meat (we're on a chicken breast kick right now), a cup of applesauce (no sugar added or high fructose corn syrup), sometimes a cheese stick (I go totally mainstream here and give him Kraft), sometimes a few baby carrots and/or some other fruit or veggie.
His old lunch box was one of those canvassy, zipper joints that was kind of small and useless. A few times, I let him use my Laptop Lunch and recently that company came out with some new bento lunch systems.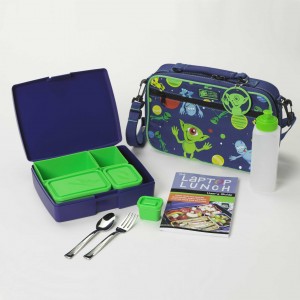 When our tax return came, I took a few bucks and ordered him one, along with some extra containers. Today was his second day using it. He had a sandwich, some carrots, some graham crackers, and some strawberries. He seemed a little indifferent about it yesterday. I hope he gets more enthusiastic about it.
I had a Laptop Lunch because I have been on a quest for the perfect lunch vessel for some years. I liked the Laptop Lunch, but I felt that it was just too small for me. I like to bring a pretty big salad, a "main" dish, dressing and croutons on the side, a snack, and my breakfast. And if I don't have what I consider a good lunch, I get all anxious about it. I was explaining this to someone the other day as they eyed my tote bag of containers of various sizes. I needed a change.
Around the same time that I bought the baby his Laptop Lunch, I bought a tiffin from Happy Tiffin. I heard about tiffins last summer in my business class when we watched a movie about dabbawalas.
My tiffin arrived yesterday and I was so excited to pack it up today.
Here we have my salad and my bagel for breakfast…
This is my wrap sandwich that contains a layer of fresh spinach and a helping of my tweaked version this Curried Tofu Salad. (I need to take a little more time preparing that salad the next time that I make it. It's too watery this time from the veggies and tofu. But very tasty.) The other container holds my croutons and dressing, plus a snack of sunflower seeds and dried cranberries in one of those silicone cupcake baking cups, which is a trick that I learned from watching blogs about bento-style lunches.
And here it is, all stacked up, latched, and ready to go. The only problem that I've had so far is finding a fork that will fit. Also, obviously, this isn't microwave-safe, so I'm not sure what I'll do if I ever want to bring leftovers to heat up. And if I were to bring something that was already warm, I would need to keep it away from things like my salad.
Like I said, I'm neurotic about lunch.
But so far, I'm pretty happy with it.
Speaking of food, I'm going to have some pretty big posts on the matter coming up in the next few days, so be sure to check back, especially if you're in the Pittsburgh area.