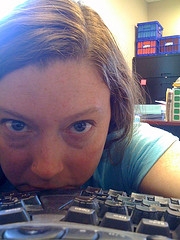 That's me at my desk. I've been in this position most of the day because I have this really annoying stomachache.
So what's been going on with me? Eh, a lot and not much, know what I mean? I've been really busy at work, aside from being doubled over and groaning. The baby had his first Little League game last Saturday, which followed their annual parade down our main street to the ball field.

We went to Art All Night on Saturday because the baby had submitted a painting.
There he is with his masterpiece, an untitled work inspired by Nintendo.
Art All Night was at the old Iron City Brewery, which was a very cool space. On our way out, I spotted this door with a partially ripped Iron City Beer sign and wanted to take a picture of it. However, I was carrying my purse, a couple Vitamin Waters, and a serving of tiramisu, so the first few pictures look like this:
But eventually I got it.
If this was a good picture, I would muse about just how utterly post-industrial it is, what with another Pittsburgh industry having to vacate the city, leaving behind scraps of their brand and loyalty.
Instead it's like, "Hey, look at this glaring flash that I took with my left hand on my point-and-shoot! Beer!"
We saw about 500 people that we know there
Couch to 5K has been going really well. I did my first 20 minute run the other day, which was a little over a mile and a half in distance.
The sister-in-law and her boyfriend were in town last week while she had her wisdom teeth removed. After her chewing abilities were back up to par, we went to Green Forest Cafe which was utterly ridiculous and delicious. Although I wonder if this stomachache is a delayed reaction to all that meat that I ate.
The husband is working on two big events this weekend: an all-night house party tonight and Rick Wade on Saturday. I don't know if I'm going tonight because the baby has a baseball game at noon on Saturday and my staying-up-all-night allowance is running dangerously low since our whirlwind trip to D.C. a few weeks ago. But if you're looking for some fun stuff to do in Pittsburgh this weekend, consider checking those out.