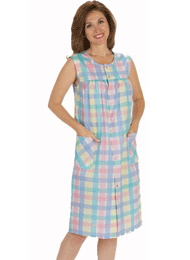 Both my grandmother and the husband's grandmother regularly sport house dresses, or "hahs dresses" as they pronounce them. They might also call them "dusters" from time to time. They're loose, knee or calf-length dresses in a light, feminine fabric and often feature a zipper closure in the front. They're worn for housework and general relaxing.
These seem to be a relatively generational feature as my mom and I both shun dresses and don sweatpants for housework and relaxing. Though since the rebirth of the maxi dress, I've spent many pleasant evenings relaxing in what is essentially a huge, spaghetti-strap tshirt.
Anyway, kdiddy.org has a new house dress, though it is so much nicer than actual house dresses, thanks to the fine folks at Sweet Blog. I answered some questions about what I would like to see, which mostly amounted to, "Err, durrr…" and Schmutzie took that and came up with that thoroughly awesome image that you see above. Then Dawn swooped in and stretched and pulled the code like so much taffy and now here we are, in new digs every bit as charming as the old, but made just for me.
Aside from the fact that Sweet Blog is run by my dear Tracey, who happens to be celebrating a kick-ass birthday today, I found the whole experience of working with the crew so pleasant. Schmutzie and Dawn were patient and open-minded, but also a huge help when I had trouble making decisions.
Ahh, this new house dress feels comfy already.