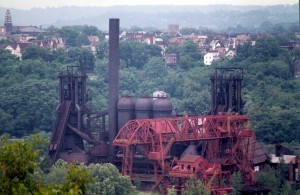 "Alright, let's get going. We still have to go to the store."
I gathered up my purse and my camera. The baby girl stared up at me from her swing and I bent down to tickle her behind her ears one more time and pressed her tiny, round feet in between my forefingers and thumbs. We hugged her daddy good-bye and walked outside into the late afternoon sun.
The smell was almost intoxicating. The ground was warming up on the first legitimate spring day. It inhaled the sun and exhaled the possibility of life beginning again, much like how the baby girl's sighs and giggles had filled the room. The nearby steel mill pumped its scent into the air. The baby girl's mother had commented on it earlier with a somewhat weary tone, not looking forward to another hot summer with that smell permeating the humidity. "I kind of really like it," I admitted. "There was a mill in my neighborhood where I grew up. I'd forgotten all about that smell." That mill was long gone now, the land being reborn into luxury apartments and townhomes. Those don't have a scent, as far as I know.
The train roared past, announcing our departure from Braddock. Entering that small town had been like a trip back in time for both me and the husband. Despite the tremendous efforts pouring into the community to restore it, it remained a worn version of itself from when it started its rapid decline when we were kids. "This is exactly what Pittsburgh looked like when we were little," we marveled. "All of it. The houses, the streets…" and the intangibles that we couldn't quite grasp, like the way your dad smells when he comes in for dinner after working outside. Everything seemed…slower…drowsier. Happy and sad with the knowledge that life just keeps on going, like spring afternoons and baby toes and a groaning, creaking steel mill that used to pump the lifeblood of a community and now just pumps weird scents into the air.
We rode toward our end of town and I let the wind create small knots in my hair, brief suggestions of red lace. We sped past Carrie Furnace, which imposed itself against the landscape of still brown trees aching to burst with yellow-green buds. The rusty red stairs and bridge demanded that you look and respect it. As my baby dozed off in the back seat, the husband turned up the song that had come on.
Home is where I want to be. But I guess I'm already there.
I was sure I'd been somewhere else all this time, lost and alone with no way back. Looking at that huge furnace and its bright red appendages, my chest suddenly ached. This is my home. This landscape created me. It shrivels and dies and seems to disappear, but its elegant beasts remain, landmarks to remind me of where I've always been.