One of my favoritest people on the internet is Gayle. As she so hilariously puts it in her bio on MoxieBird, "she works as an actor and writer to support her passion for secretarial work." A few weeks ago, she told me that the Bricolage Production Company was going to be having a blogger night to celebrate the opening of their newest play Hunter Gatherers. It had been awhile since Gayle and I had hung out, and there were going to be some free drinks, so I agreed.
I had never been to Bricolage, but it's a very cool space downtown with an intimate stage, plus a resident dog, Odie. There was a quiz before the show started to find out if you were a hunter or a gatherer. I am an Ultra Gatherer, which they didn't have an explicit sticker for. So I hacked mine with a ballpoint pen, hence the horrific scrawling.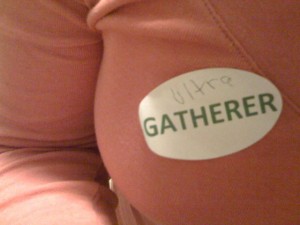 So, the play…
Two couples have been friends since high school and have continue their annual dinner through their 30s. On this particular night, all four people are at a crossroads in their lives and none are satisfied with keeping things the way they are, no matter how badly they want to believe that they're living the lives that they're supposed to. Over the course of the evening, they each strip away their middle class veneers and get down to their base human natures. They're shocked at how primal they really are as they allow themselves to indulge in carnivorous urges of all kinds: sex, procreation, alpha male posturing, and actually eating meat.
Yuppies breaking down might not sound particularly funny but the writing was quick-witted and hilarious. And the actors were inspirationally good. As in, I wanted to become an actor SO BAD watching them on the stage, fully engrossed and kicking ass.
Hunter Gatherers will run at Bricolage now through May 7th and I highly recommend that you take in a performance. As we emerge from that excessively long winter, it's wonderful to be reminded of what an amazing cultural community we have here in Pittsburgh.
To get you started on your spring/summer activities, I would like to offer you the chance to win two tickets to a performance of Hunter Gatherers. All you have to do is leave a comment here and I'll pick a winner at random next Friday, April 22nd. Good luck!