Over the long weekend, we made our annual pilgrimage to Detroit. After carefully considering the lineup and cost for this year's festival, we decided to not attend the festival proper, and instead save our time, money, and energy for the after parties and the city at large.
It felt a little weird to not be marching down Jefferson toward Hart Plaza every day. But, as I explained to someone who asked, I just don't feel like it's for me anymore. The promoters are catering to a different crowd (read: wealthier and, I'm sorry, not at all sophisticated in musical taste or public behavior). The lineup is just not as worthwhile for me to endure the discomfort of sharing a space with people who are either too young or too old to act the way that they do…not that there's a good age to wake up and say, "Today I think I'll experiment with wearing just underpants." Although, from what I understand, the behavior of festival attendees in general was extremely subdued compared to that of people in town a few weeks ago for a country music festival. Apparently, nightmares came to life and rode into town on John Deere tractors.
Anyway, our loose plan was to do some touristy things that had been on our list for awhile, take it day by day as far as the festival goes and set aside money for daily admission if there was someone who we really wanted to see and didn't think we would have another opportunity. We would eat well, check out the sights, head back to the hotel for disco naps, and then enjoy the nightlife.
This worked out wonderfully.
My Twitter and Facebook remained virtually silent throughout the weekend, until finally I stopped laughing long enough to report: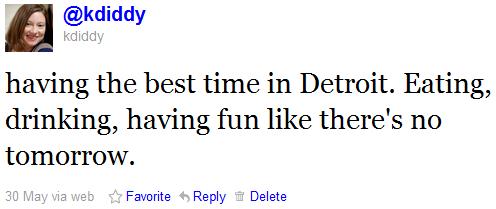 By that point, I had spent nearly every minute since Friday afternoon with the husband, the sister-in-law, the sister-in-law's boyfriend, Frank, and Noleian, plus other groups of Pittsburghers like Jwan, Liz, Adam, Preslav, Shawn, Kristine, Curt, Amanda, Tony, Sarah, and Arnie. We had been all over the city, exploring eateries and neighborhoods that we'd never seen before. Then we would go out and dance ourselves silly before returning to the hotel and waking the birds up with our slumber party antics. We had so much fun.
There was a decent amount of cutting loose, including an ill-advised plan on Friday to sample Four Loko and Blast by Colt 45. As I heaved the cans down from their shelves at the party store, I explained, "We're all going to try a little bit of each. It'll be like a wine flight!"
I took some tasting notes from the assembled imbibers:
"It smells like…something I've smelled before."
"It looks like…something I've seen before."
"Hmm…It's like you soaked a urinal cake in beer and drank it."
"Gives you corpse tongue."
"Tastes like they had a bum swish this around in his mouth and then spit it in a can."
The Strawberry Watermelon was terrible. The Blueberry Pomegranate was okay, but we were alarmed when a small amount spilled on the nightstand and stained it immediately, as we suddenly became aware of what this concoction might be doing to our insides. The Lemonade Four Loko was almost pleasant, but it's worth remembering that we were probably irrevocably brain-damaged by the time we cracked that bad boy open.
With that milestone behind us, we headed out to see Suburban Knight and Juan Atkins. Suburban Knight was awesome. Juan was apparently hiding a wet blanket in his leather pants because he immediately made things weird and not fun, so we left.
On Saturday, the sister-in-law and her boyfriend and I went to Hamtramck, which is a city within Detroit, and met up with the husband, Frank, and Noleian at Detroit Threads. It was a cool record store but is also a vintage clothing store. This was a huge bonus for me. When I go on record shopping trips with the husband, I usually poke around for a little bit and keep an eye out for stuff that I know he's looking for, but I can't help but get bored after awhile. The selection of clothing that they had was really impressive and well-organized. The sister-in-law and I both actually found a number of items that were a) cute, b) decently priced, and c) fit us. It's pretty hard to find all three of these qualities in many vintage stores, in my experience. I bought two dresses and a totally badass coat that I'll have to take pictures of and show you. So excited about them.
We were going to go to Slows BBQ for dinner but they had a two-hour wait and we were getting murderously hungry. We ended up at Mexican Village, which was decent but not outstanding. I was pretty proud of us for going through multiple pitchers of salsa (yes, pitchers of salsa) and margaritas.
That night, we went to a cafe/performance venue to see Kai Alce and Omar S, which was so, so great. The venue is notoriously hot and within minutes we were all sweating. This did not deter us from going crazy the rest of the night, especially since Omar S' set was completely bananas. I kept looking at the husband and saying, "What is this track?" and was frankly disturbed when he didn't know any of them, because that dude is a veritable walking encyclopedia of dance music. I then said out loud, "I think maybe Omar S was abducted by aliens and they gave him a stack of records to play. I'm concerned."
We finally got to a point where we had to step outside, and the husband and I bumped into Scott Grooves. He and the husband needed to exchange records, so we walked with him to his car. It was a unique kind of delight to come upon Scott's mid-80s Pontiac Parisienne and to watch him open the trunk to reveal a meticulous collection of plastic bags. What an odd fellow.
On Sunday, we went to a Detroit Tigers/Boston Red Sox game at Comerica Park. It was slightly miserable for the first inning or so as it was in the mid 90s and sunny. But it eventually cooled down. It was cool to see a Major League baseball game somewhere other than PNC Park and we got to see Big Papi hit a home run. Comerica Park is very…busy. It seems like when it came time to decorate it, anything that was standing still was outfitted with a tiger, a baseball, a bat, a Chevy, a fountain, a bridge, or sometimes all six.
Also, this happened:
Which only bolstered my suspicions that aliens were present and indicated to me that CLEARLY I need to drink and get little sleep more often since it does so much for my critical thinking capabilities.
For dinner, we went to Buddy's Pizza, which was ridiculously tasty. I've not done extensive pizza taste tests over the country, but I feel like, objectively, Buddy's has some of the best.
The after party that we had planned on attending was shut down and without a real back-up plan we ended up just staying in for the night, which was kind of dumb. We should have just gone out, but oh well.
Monday we finally made it to Slows which was OHMYHOLYGOD delicious. Let me blow your mind here for a second (vegetarians, look away).
Green beans, pulled pork, chicken, and brisket. The brisket literally melted in my mouth.
An unfortunately too dark picture of our ribs, macaroni and cheese, black eyed peas, and baked beans. I wish I could have documented the meal better but my hands were shaking in anticipation from the meat fumes.
Banana pudding with banana slices and Nilla wafers. Swoon!
Then we were all kinda meat-drunk.
Since we were right by the iconic Michigan Central Station, we decided to walk off a little bit of our meal and check it out like good yuppie wannabes post-industrial ruin tourists urban explorers I-can-see-this-becoming-some-really-wonderful-loft-apartments-starting-in-the-low-300s!
It's just…stunning. It's huge and smells kinda weird but is still really, really beautiful.
Someone who used to work there just happened to drive past and told us how gorgeous and busy it used to be. He didn't sound sad. Just matter-of-fact.
I felt kind of bad about the pictures that I took this year, since so many of them capture what people would see as negatives. But it's hard to capture stuff like this:
…a grown man and his friends, laughing, for a few precious days not caring about whatever has them down, genuinely having a wonderful time with people who truly understand each other. Or this:
…the beauty of a renaissance center shrouded in fog late at night. If you've been there, then maybe you understand what I'm talking about.
Anyway, our last night was going to be at a house party featuring Andres and Malik Pittman, both of whom I adore. I was especially excited about Andres since he's responsible for one of my personal anthems.
Unfortunately, the barbecue turned on me and I spent an ungodly amount of time in the bathroom. I resigned myself to the fact that I was too sick to go out. I crumbled into bed and turned on TV while everyone else went out. I was in the middle of a really depressing program about Gettysburg (the average time of a limb amputation in field hospitals was 12 minutes) when Frank texted me and asked if I felt like I could possibly make it out. "Maybe," I replied. Then I decided that there was no way that I was spending our last night there in bed. The husband drove back to the hotel to get me and I shuffled to the car, ginger ale in hand. When we got to the venue, the bouncer let me in for free because I was wearing my Northland Roller Rink shirt. I was pretty proud of myself for rallying, even though I had to elbow some people out of the way to get some choice real estate near a window, as it was too hot for me in my, er, sensitive condition.
I came home to Pittsburgh feeling tired and kind of gross, but my spirits were totally rejuvenated. I love my friends. I love my husband. I love that we do this together every year.