I feel the need to declare that, overall, I feel pretty alright, because I need to remember feeling this way for the times when I don't. Like this morning, when I sent the baby upstairs to get dressed for school, only to find him 10 minutes later sitting on his bedroom floor reading a comic book. I was furious, which was perhaps an overreaction, but seriously, what the hell? Then, like an idiot, I tried to get him to walk me through his logic that led him to chill out with some reading material when it was clearly close to time to go.
"Well, you didn't lay out any clothes for me…"
"So…that meant that you just weren't going to need to get dressed today?"
"I don't know."
SIGH. Is there such a thing as the Terrible Tens? Because he seems to be in the midst. Oh, and the first person who says anything in the neighborhood of "pre-teen" gets punched.
But all of that nonsense aside, we've been doing a lot of our traditional fall stuff, including going to Trax Farm this past Sunday. Because October is always so busy for us, we always end up squeezing our farm trip in at around the last minute. And we always have to go with everyone else in the tri-county area who is working their annual trip in around the Steeler game. So there's always a tense hour in the market part where you come face to face with how horrible the general population is at functioning in crowded spaces and steering grocery carts. Really, there ought to be a license for carts and things like, "Leaving your cart in the middle of the aisle while you gawk at the apple butter display instead of pushing it out of the way," will be fineable offenses. (This, by the way, is the main thing that I hate about the Market District Giant Eagle in Shadyside. The customers' idiotic navigation, especially in the horribly arranged produce section. I can't tell you how many times I've almost hurt people's feelings in that store. And, yeah, I take grocery shopping a little too seriously. I don't have time for foolishness.) But we had a really good time, got our pumpkins and about 300 other precious autumn things. I had the presence of mind to be thankful that the baby didn't put up a fuss when it was time to take his picture next to the huge wooden pumpkin, because I know in the next year or so he's going to refuse and that will be when I become that woman who gets drunk and cries at the farm. But you guys. Look:
That's from Sunday. And this? This is from 2005:
I can't even. I'm doing this to myself a lot lately, which is admittedly kind of masochistic, because I can't wrap my brain around the idea that he's turning 10 soon. It's just so…big. And I'm warning you now that I'm going to go all mommyblogger on your asses and put together a montage.
The other kids in our house, the furry ones, are doing pretty well, too. Florian the kitten is getting bigger everyday and is still a bit of a mad man. Greedo the cat is so chilled out by nature that this is kind of exhausting for them. I was getting concerned, but then went and spent an absurd amount of money on a cat tree. I think because there were no existing territorial issues for it, and it gave something for the kitten to attack, it seems to have made them much happier. They even hang out in it together sometimes!
Florian is quite the love bug and usually sleeps next to or on me, which is fine, except for when he gets the itch to gallivant in the middle of the night at the expense of my slumber. Last night, I became momentarily aware that he had scrambled across my forehead and had some bleary thought of, "Kitten. Scratch. Face. Ow. Register pain in morning." I had completely forgotten about it until I saw myself in the mirror and noticed the little spot of dried blood. At this rate, I'm going to start looking like Omar from The Wire. Or, perhaps, Michael K. Williams dressed up as Omar dressed up as King Richard for Halloween or something equally ridiculous.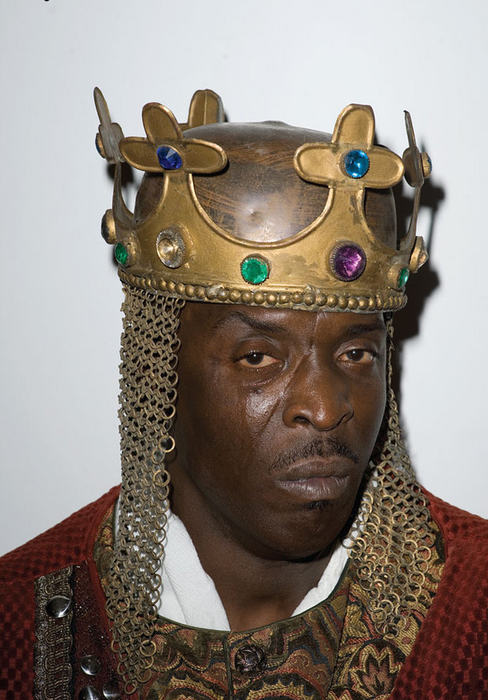 I have no idea why that picture exists, by the way. I just know that I'm eternally thankful that it does because the mere thought of it makes me giggle. This morning, for some reason, that scene from Forrest Gump where Jenny is throwing rocks at her molesting dad's house came to my mind, because I'm such a naturally cheery individual. I thought about how the line, "Sometimes I guess there just aren't enough rocks," would make a great caption for a picture of, say, Whitney Houston smoking crack. But then I pushed it out of my head, figuring if I could dream it, then someone on the internet has already made it exist and I'm not breaking any new ground there. This is both sad on many levels and one of the reasons that the internet is so great.
Anyway. How are you doing?