The baby's friend wasn't actually wearing aviators. I added those to protect his privacy and ensure that I'm exploiting only my child. If that kid's parents want to exploit him, they're on their own. I can't do everything for everyone.
Something (else) that my kid might eventually hate me for is conceiving him in March, causing him to be born in December. He hasn't yet made it evident if he is at all bitter about this, but I've heard from plenty of people that having a birthday in December sucks. Apparently people experience their birthdays getting kind of swallowed up by Christmas, which I think makes Jesus, like, the most annoying first-born sibling ever, getting all of the attention and stuff.
From my perspective, my kid's birthday falls in the midst of one of the busiest times of the year. There are lots of parties and events to attend, plus the irresistible urge to just DO stuff, like clean and decorate the house and go on baking rampages. When he was born, I ventured out of the house for the first time when he was about two weeks old to go Christmas shopping. I tell you that Hunter S. Thompson, with all of his fear and loathing, would not have been able to handle the experience of a Bed Bath & Beyond in December after popping Percocet for a few weeks and existing in a weird twilight of breast milk and interrupted naps. I nearly had a psychotic break. Also, I got people like the shittiest Christmas gifts ever. I think my mom got a picture frame and my dad got a handkerchief or something. The husband got a Kendrell Bell jersey, which was cool at the time, but quickly became a dud when Bell got injured 830 times and then fell off of the face of the earth.
Anyway…what was I talking about? Oh, yes, my kid's birthday. If it fell during a less hectic time of year, I would be able to focus more time and energy on it. But as it stands, I've outsourced his birthday party almost every year. That way, he gets to have a special day and I don't collapse in the corner crying. High fives all around. As a result, he's had some really cool birthday parties at movie theaters, roller rinks, and museums.
This year, we kind of blindly decided on an arcade called Games N'At. We had intended on checking the place out first, but about a month ago I realized that we needed to just go for it, lest we end up with nothing to do. Let me tell you, if you have any kind of party coming up, kid's birthday, adult birthday, holiday party, whatever, consider going there. It's fantastic.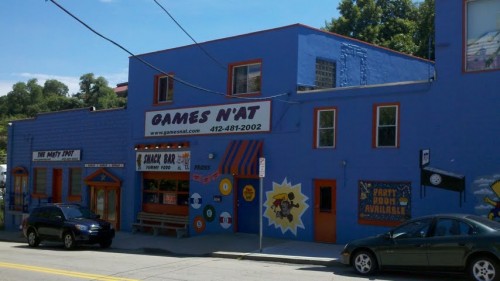 It doesn't look like much from the outside, but inside there are all of these rooms with every kind of video game you could possibly want to play, everything from air hockey and skeeball to XBoxes and old school Pac Man and Dig Dug. I had told my grandparents not to come because they would probably find it too loud and crazy, but the big party room that we were in (one of two) was quiet and relaxing, with a fireplace and a nice big TV to watch if you needed a break. The kids were able to pick what they wanted to eat…basic party fare; pizza, nachos, chicken nuggets…nothing gourmet but on occasions like these I CARE NOT. Parents got to eat, too, which was awesome. I can't tell you how many times I've nearly passed out at a birthday party because the food is only for the kids. The staff also provided candy bags, so all I had to do was bring cake, which was fine because the baby always has me make him cupcakes anyway. The kids each got free tokens for the games that dispense redemption tickets, but we got a few extra because they had double-booked the party room. Another party was slightly overlapping ours, which really wasn't even an issue, but the owner was so apologetic about it, which was really nice of her. For three hours and all of that service and amenities, the total was about $180. I guess that's generally kind of expensive, but I felt that it was a total steal.
I also have to talk about the cupcakes that I made. The baby always asks for chocolate mint cupcakes and for the past few years I used a recipe that I didn't particularly like. Then, one of my favorite food bloggers, Annie's Eats, posted a recipe for some fancier mint chocolate cupcakes just a few weeks ago. The moist cake with the mint ganache filling and the mint Swiss meringue buttercream was so much better than my previous iterations. But, as my mom pointed out, were kind of wasted on the kids. I had braced myself for this and thought I would be cool with it, but had to bite my tongue when one of the guests promptly scraped off the buttercream. "I don't really like icing," he explained. THAT'S NOT "ICING" YOUNG MAN! THAT'S SWISS MERINGUE BUTTERCREAM, GAWD!"
But the baby had an awesome time, which is the most important thing. I'm hoping to go back soon so that I might redeem myself on the air hockey table. The husband doled out a horrible smackdown and I had the added insult of getting laughed at because my gameplay looked like my coach had been our kitten. I got all dizzy following the puck back and forth.