I had my big appointment with the neurosurgeon this morning. The main piece of news that I have to share is that I don't have to have surgery. At least not yet. I'm going to do physical therapy for a month. If things aren't getting better after that, then I'll get some injections (ew). And if I'm still messed up, then I'll have surgery.
The other piece of news is that I have two herniated discs, not just one.
And that's…about all I got from the appointment. I had a list of questions prepared, like how might I have possibly done this, how exactly does one heal a herniated disc, what physical activity is safe for me at this point. But as soon as it was clear that I wasn't about to go under the knife, my mind kind of went blank.
I was also kind of flustered by the whole experience. My appointment was in the Hillman Cancer Center, which was packed with people even at 9 in the morning. I overheard that the doctor that I was there for sees about 70 patients a day. Plus the various conditions of the people in the waiting room was upsetting. I felt kind of silly even being there for my neck as I gave up my seat so that a daughter could sit next to her wilting mother. I ended up only seeing the actual doctor for maybe two minutes.
And, you know, none of that REALLY bothers me. I just wish I would have been as businesslike in response, you know?
But, on the cool side, I got a disc of my MRI images. It took me a minute to figure out how to look at them in a way that made it obvious what I was dealing with, but…whoa.
I also got a kick out of getting a peek at stuff like my brain. In some views I can clearly see my cerebellum (yes, I had to look that up; 8th grade anatomy was a long time ago) and the fibers and whatnot that it contains. Crazy.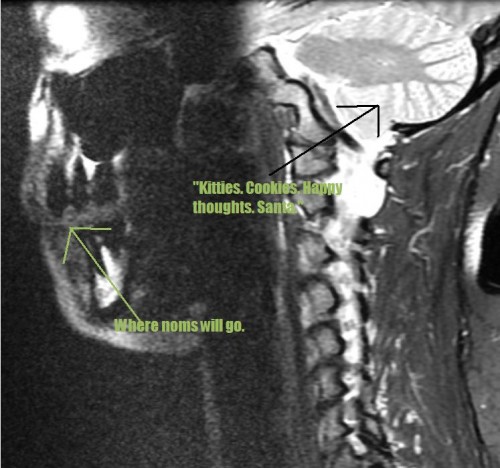 So, this is good. To be honest, I had kind of pumped myself up for surgery, since my PCP seemed so certain about it, and saw the bright side of it being that I would be fixed sooner rather than later. But I'm definitely cool without it for now.