The biggest mistake that I make with things like 3-day weekends is opting not to relax and/or putter around the house but instead pack a ton of activity into it. Like on Saturday, when I participated in the Run for Your Lives Zombie 5k.
When I first found out about this race, I posted it to my Facebook and got a few enthusiastic responses from friends who said they would do it with me. But that didn't pan out and as the event approached, I became increasingly anxious about doing it by myself. Regular races I'm fine doing solo, but I knew this would be a mostly silly activity meant for friends to do together. I thought about people taking pictures of each other at the end and got sad about the idea of me wandering away from the finish line alone. I once again checked in with Facebook and found out that my buddy Brad was going to be doing the race, too, and starting at the same time as I was. Perfect!
Run for Your Lives was basically an all-day zombie-centric festival. People could participate in the race and then camp overnight while participating in other zombie activities and seeing some bands. It took place out in Butler, which is only a few miles away from Evans City, the spot where George Romero filmed The Night of the Living Dead and The Crazies.
After making my way through all of the entrance stations, I was relieved to spot Brad and his friends in the crowd. Like many other groups there, they had made special tshirts for the occasion that referencedShaun of the Dead. After wandering around for a bit and taking an ill-advised sip from the "potable" water fountain (it was potable in the sense that it didn't give me any intestinal distress, but it tasted like metallic dookie), we were finally able to line up in the corrals. After some smoke poured down on us, we were able to make our dramatic entrance into the actual race field. The first unofficial obstacle was the ridiculous hill…and then the ridiculous hills that followed. The first mile was seriously all uphill, which nearly killed me.
A few zombies were scattered through the woods but they were easily dodged. Then I finally came upon the first obstacle: two mudslides. I wasn't paying close attention to what was happening to the people in front of me because I was waiting for the go-ahead to slide from the staffer at the top. But the muddy pool at the bottom was six or seven feet deep and I was surprised to find myself suddenly underwater. I emerged, gasping, with muddy snot dripping out of my nose and then marched up to the second slide. That one was just a tarp covering a hill and my butt became intimately familiar with all of the various sticks and pebbles poking through it. I soared down yelling, "OW OW OW OW OWWWW GODDAMMIT!" until landing in another muddy pool.
Mud became the central theme of the day. I army crawled through mud underneath real barbed wire. I attempted to jog with water-logged shoes through muddy patches of ground while dodging zombies. I crawled through another mud pit underneath a wooden obstacle. I went through a field of live electrical wires in a muddy shack. I hurled myself over walls into mud patches. I tiptoed through a muddy maze in a dark shack furnished with zombies armed with Super Soakers. At the end, I spotted Brad who pointed at the last obstacle: a mud pit covered with an electrified fence. "Kelly!" Brad said, pointing at the fence. "This really hurts!" he informed me far too cheerfully. I squished through and suddenly felt someone seemingly club me over the head, causing me to bite my tongue. Alas, there were no clubbing zombies, just an electric shock to the skull.
I completed the whole thing in a little over 58 minutes and did not make it out "alive." It was really, really hard but so fun. There are a few really good first-person videos online so far.
One of Brad's friends took a picture of us in all of our muddy glory.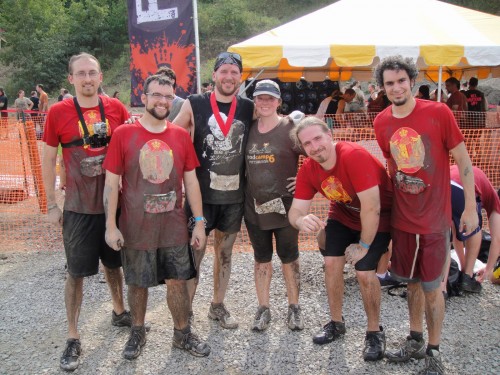 Later, at home, I peeled off my clothes and took one of the best showers ever in life. I found mud in places where mud should never be. If they have it again next year, I think I'll participate. It's too absurd to miss.