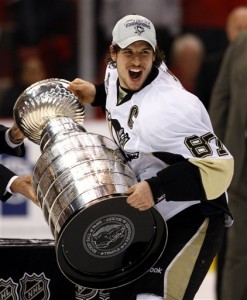 I'll be honest. I wasn't totally sure that the Penguins could pull it off. Having to go back to Detroit for Game 7 after every appearance there in these playoffs was a total disaster had me thinking that last night could be another heartbreaking loss. But the team that played last night was a totally different team that played there a couple of nights ago, when we lost 5-0. Everything came together. They played well, they were focused, and, yes, we had some luck on our side.
And they won. They won. It was thrilling. Getting to see Sidney Crosby hoist the cup was awesome and watching him hand it off later to Mario Lemieux was almost too much. I only have vague memories of the last time that the Penguins won and Mario was the first to lift that beast over his head, mostly of hugging my parents in our living room and banging pots and pans outside. Last night was nice and clear, though.
As I've said before, I don't care that it's "silly" to be emotionally invested in my sports teams. There's happiness and joy there. That's a good thing.
We walked to our main drag last night and watched some of the celebrating. We left when the cops showed up in case things took a turn, since we had the baby with us and I would really like him to wait until he's older to get teargassed for the first time. But things remained rowdy but peaceful. I could hear the cheering from all over the city for hours. It practically became my lullaby as I drifted off to sleep, so happy to call this goofy city my home.